With spring in full swing, May is an ideal time to hit the road in a camper van. Mild to warm temperatures mean you can comfortably enjoy anything from active outdoor adventures to sunbathing on a beach, depending on the part of the country you choose. Blooming flowers, open-air events, and spring festivals add to this month's appeal.
Despite these prime conditions, May is part of the shoulder season in many places, so you'll get to explore with fewer crowds. Whether you're drawn to happening cities, delightful little towns, or remote nature, we have suggestions for you. Read on for ten of the best destinations for van lifers to visit this May.
Newport, Rhode Island
Take advantage of May's perfect weather to explore this scenic seaside community on foot. Top of the list? Newport's wharves, lighthouses, gardens, and famous Gilded Age mansions. Switch up the mode of transportation with a pedal-powered "rail explorer" that follows an old coastal railroad with epic views. Or try your hand at sailing–the season will have just started and beginner lessons are available.
Nashville, Tennessee
If you're a fan of live music, libations, and delicious food, head to the thriving cultural hub of Nashville. May has been designated Street Food Month, with even more events than usual where you can sample local grub from more than 80 businesses. As the weather heats up, live music outdoors sees a resurgence. Other notable events include the Tennessee Craft Fair and Nashville Rosé Festival.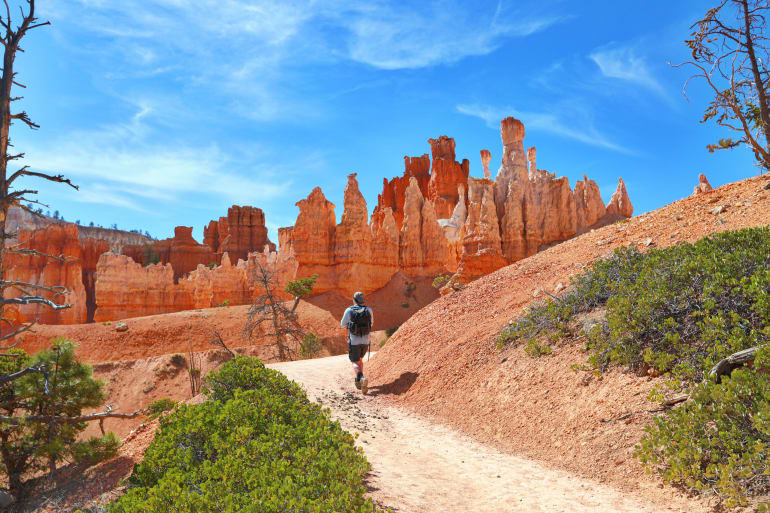 Bryce Canyon National Park, Utah
The wild rocky vistas of this iconic American national park are beautiful in any season, but May is a particularly convenient time to visit. The snow will have melted, making hiking and driving through the park easier, while the throngs of summer and fall visitors won't have arrived yet. It is also a great time to see wildlife and desert flowers. For more mind-boggling geological features, check out the other famous national parks that make up Utah's Mighty Five.
Boston, Massachusetts
Celebrate the transition from spring to summer with Boston's dazzling display of seasonal blooms. In May, you'll be treated to tulips, lilacs, roses, and much more. You can wander through the city casually taking in the bursting botanicals and historical architecture. Or make a point to visit special flower-focused events, such as Lilac Sunday at the Arnold Arboretum, where you can picnic surrounded by swaths of sweet-smelling blossoms. Round out your itinerary with a tour of Boston's monuments, pedaling a swan boat on the lake, or a whale-watching experience.
Yosemite National Park, California
May is one of the best months to explore the breathtaking valleys, granite monoliths, and giant sequoia trees of Yosemite National Park, minus the crowds. In early spring, many of Yosemite's roads will be closed due to snow, while summer marks the start of the busy tourist season. If you're looking for an accessible yet uncrowded experience here, May is your best bet. To sweeten the deal, the park's awe-inspiring waterfalls will be at their peak flow during the second half of the month.
Annapolis, Maryland
Head to Maryland's capital city for quaint historical buildings, boats, and blossoms. Plan to arrive in time for May Day on the first of the month, when the streets come alive with unique flower arrangements placed in front of businesses and homes. After strolling around town or hitting one of the area's many attractive walking trails, kick back with some fresh seafood and craft beers.
Morro Bay, California
For a different type of beach vacation, head to Morro Bay. This small city on California's Central Coast is unpretentiously lovely and has a strong connection to the surrounding nature. In late spring, the region will swap rain for sunshine and mild temperatures. While May's average high of 64 degrees isn't bathing suit weather, it's perfect for Morro Bay's outdoor activities, including hiking, biking, kayaking, and wildlife viewing. For more on this charming destination, check out our guide to van life in Morro Bay.
Miami Beach, Florida
If you're ready for all the summer feels, head to the Sunshine State. Specifically, Miami Beach will satisfy your vacation cravings with white sand beaches to lounge on, glamorous nightlife, fine dining, and a seven-mile-long oceanfront promenade to stay active. Avoid the crowds of spring and summer break when you visit in May. Then park yourself between some palm trees, apply a generous dose of sunscreen, and enjoy your own personal paradise.
Denver, Colorado
There are many reasons to visit Colorado's capital in May, including botanical gardens, amazing food, and adventures in the many state parks surrounding the city. The number of outdoor events also surges as the weather improves. Denver's Cinco De Mayo festival is one of the nation's largest, celebrating Mexican culture with two days' worth of merriment, including a parade, multiple live music and dance stages, vendors, and contests.
Galena, Illinois
Looking for a lowkey getaway this May? This charming 19th-century town might be just the thing. The majority of the town is designated an official historic district, so you'll feel as if you stepped back in time. Explore the area's rich past by walking down the award-winning main street and touring historic buildings, then venture out for some hiking in the hills or along the scenic Galena River. Cap off your trip with a vineyard wine-tasting experience.
Whichever destination you choose, a camper van will provide you with the freedom and flexibility that all travelers dream about. Vans facilitate easy transitions between city and country life so you can take in all the best attractions of an area in a well-rounded way. Plus, if you're a full-time van dweller, you've probably unlocked a flexible lifestyle. This means you aren't stuck traveling during specific breaks or holidays like most people. Uncrowded vacations in May, here you come!
Ready to join the RecVan revolution? Check out our large collection of top-of-the-line camper vans. Looking for even more travel inspiration? Read last year's roundup of May van life destinations.